Tēnā rā kōutou ngā whakaurupātanga o Kui ma o Koro ma. Kia tangihia nei e tātou o tātou tini mate, kia poroporoakitia ki tua o Paerau kia wheturangitia ki te po i au ai te moe. Nō reira koutou ra i kaiponutia e Hine-nui, haere, haere, haere atu rā kōutou i runga tonu i te mapu hāneanea o Aroha Pūmau, o Pae Maumahara, okioki atu.  Ko te amorangi ki mua, ko te hāpai ō ki muri. Tīhei mauri ora!
We begin our first blog with a warm acknowledgement of you all. You who are the resting places of our ancestors, welcome. We therefore acknowledge the many ancestors and loved ones past on. Farewell. We love you. Travel then on the warm and comforting breeze, of undying love, of memory held fast and find rest. May the presence of spirit be in front of all that we do. We behold the breath of life!
Most often the long travel and even longer walk is simply unaffordable due to time or money. However, like all things, we are only restricted by ourselves and our commitment to manifest our intention. We find that the first step in creating luck is leaving the comforts of our daily norms.
Already Ancient have bought most of our Pounamu (Jade/ greenstone) from old miners, carvers and collectors. Our selection is over 20 years of collection.  This has enabled us the privileged advantage of being able to ensure the stone we have is of the quality needed to make quality pieces that are free of fault and rich in colour.
" The sand fly guards a tiny wee cavern in the moss. It is sprinkled with dew, like drops of diamond. What treasures are within that cave? How I long to know what's in there. If only I were a sand fly." Slap!
There are more places in New Zealand where we are able to find stone than most people are aware. It's not our intention to tell you exactly where these places are and although we encourage you all to get outside and explore the many treasures Aotearoa New Zealand hold, we don't want everyone racing off taking everything that sparkles and shines leaving our future without, but the earth's history is older than our most distant ancestor, the accumulated memory bank of Papatuānuku the Earth Mother remains guarded by Rūaumoko (her unborn child). Long after humanity expires the stone will regenerate from the bones of the earth.
Thus we write this blog in attempt to share without giving away, inform without telling, to give a perspective without defending any agenda other than fairness and consideration to all.
Know the law and operate using your best tikanga, you will need both.
Know that our forests and mountains are off limits in the region of Ngaai Tahu. Most of these areas are under the protection of the National Parks. This is the case for many places in the top and bottom of the South. Pounamu is of course protected by Ngāi Tahu in the South and has not yet been found in the North.
We recall the words of an elder from the Rapuwai people reminding us that the story of stones lays in the past. There are billions of years worth of stone history laying at our feet. We remember that Central Otago was once a lake, then a glacier. We have found specimens of Bowenite, Serpentinite and Olivine here. These are all very closely related to Nephrite/Jade and can be called Pounamu.
" Pounamu is not like the shellfish that are always increasing, Pounamu works backward to the future and the first stone formed will be the last one found, again".
Although Pounamu has always been prized by Māori to the extent that it is recognised as our national stone, there are other cultures that celebrate Jade. Ancient people from Egypt to Italy and Japan have used and valued Jade. Already Ancient Aotearoa acknowledge that there are stones of value available just as prized to other cultural groups that New Zealanders belong to. We have Garnet, Quartz, petrified woods, Amethyst, Kyanite, Jasper and Opal (to list a few). Other countries have quality pounamu too, they call it Jade. Jade is valued highly around the world.
http://www.bbc.co.uk/ahistoryoftheworld/objects/ZRfYPmVMSgmqZyFEY8VRJA
Public are allowed to fossick in any river that is on private land (with permission) or Queen's Chain. Private land means any land owned by a person or company. This will require for you to consult the land owner to gain access. Nobody owns that which has not been found and we walk in our own luck. Public land is protected by the Crown and the Crown are obliged to protect the stone on behalf of Ngai Tahu. It is our understanding that the top areas of the South Island are seeking to claim for stone too. We imagine that at some point in the future iwi Māori will have full control of the harvest of Pounamu. It is our person belief that this is a small compensation for losses incurred. We hope the scars of NZ colonial history are healed before our grandchildren arrive.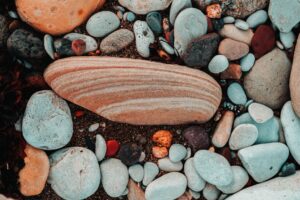 Be aware that on the West Coast, not even gold miners who have a claim are entitled to sell the stone they have found (after 2000). On the West Coast there are patches of the Arahura River and adjacent land privately owned on Victorian Title. This means that the land owner also has mineral rights. Here (with farmer's permission) fossicking is allowed. For the rest of the river, fossicking rights are held by shareholders of the Māwhera Corporation. Mana whenua and/ or shareholders of Māwhera should be contacted and if possible ask them if they will take you walking. There are people that offer this as their income. Ngai Tahu Pounamu sell natural stone to registered carvers, So too do some of the old carvers and permit holders from pre-2000.
" A canoe relying on the current will be subject to the will of the sea. A canoe that relies on the stars is its own master".
Aotea is found mainly in South Westland at only one beach and its river. The river is protected through a mining licence held by the mana whenua. Detailed maps of areas under claim can be found at http://data.nzpam.govt.nz/permitwebmaps/?commodity=minerals. We have been lucky to have a beach that has been free for fossicking to the public. Our understanding is that this beach has recently come under the protection of an exploratory mineral licence held by the local iwi. This subject is contentious and naturally both iwi and public feel strongly about their rights to the stone. We respect this, It is easy to find mineral licences on line and we can see what areas are held under licence. It is best for you to be informed.
The first discovery of Kyanite (which makes the blue half of Aotea) was however at the top of the South Island and we have found Aotea in that region. We look for places where Schist, Copper or Iron are found.
It doesn't matter where you go, you may be challenged. It's up to you to know that you are right or wrong. We encourage you to "be right" whilst respecting that others maybe just as right. The last thing anyone wants is trouble.
Agates, Amethyst and Citrine can be found especially in Canterbury while Obsidian can be found (especially) in the volcanic regions of the North. Hematite in Arrowtown and Petrified Wood in, well, a million places. You have choices. Do the research, get a map and don't forget to ask before you walk through someone's property.
Finding one type of stone may suggest that another associated stone will also be found in the same place. Pounamu is often found with Basalt and gold. Kyanite is often found with Schist and Garnet. Petrified wood with fossils.
" By listening we come to know, from knowing we come to understand, from understanding we master application, from the mastery of application we secure the force of life".
Now we know a little we begin the walk. As we practice "The Walk" we become better at simply "knowing" that what we have found is precious. There is less need to seek external validation as we trust that we are in the right time, right place and we have the knowledge needed to find what we are seeking.  " Is this one?" becomes a redundant question as we just become secure in our understanding of the signs. Be patient with yourself, we still get mistaken at times. Good luck! Kia tau ngā manaakitanga o te runga rawa ki runga i a tātou katoa.